why advertise on the campercontact platform?
Campercontact is a leading European platform that connects motorhome owners, campsite providers and brands. Our SaaS solution offers businesses and end-users high quality reliable peer reviews for carefree motorhome adventures, and convenient tools for managing and finding motorhome spots. Furthermore, you as a brand can effectively advertise towards Europe's largest motorhome community.
1.200.000+ visitors per month
42.000 locations and locationmanagers
For motorhomers by motorhomers
High quality data, reliable, moderated locations and peer reviews
750.000+ verified reviews
1.200.000 downloads in the community
1.300.000+ users in the community
Core target group pensionado's and young families
Travels 5+ times per year
Interested in travel, sports, outdoor and tools/tips
Our channels: website, app, email & push, Facebook, LinkedIn, YouTube, Instagram
More information in the infosheet below: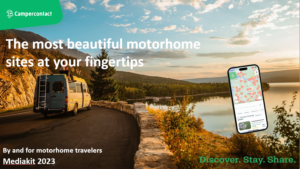 Would you like to know more about our options? For more information, please contact us or request the full mediasheet.